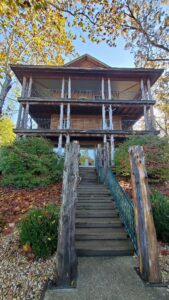 The Cotton Gin Inn, a modern lodge, is located where the Cotton Gin Mill once stood. The Inn features eight, two-room suites capable of accommodating up to six guests each. Great choice for families or larger groups. The Cotton Gin Inn is located on the hill directly behind the Cotton Gin Cabins with parking on the backside. All rooms on the first floor are handicap accessible as there are no stairs from the parking area. Cotton Gin Inn Room#
The rooms in the Cotton Gin Inn feature 3 queen size beds with a private exit to the deck. Rooms are equipped with a table, chairs, and two queen beds with the third bed in a private back room.
Amenities include air conditioning, hair dryer, microwave, coffee pot and mini refrigerator.
Book Online today by clicking here
Pet Policy: No pets are allowed in lodging. Pets are welcome in RV and Campsites with a 2pet limit and $10 nightly fee. Pet owner is responsible for pet clean-up. Pets must be on a leash.