Come Enjoy the Majesty That is North Fork River
What better way to explore the beautiful North Fork River than by canoe , raft or kayak? Here at Dawt Mill, we provide all these options for you to choose from. Whether you're looking to reel in a big catch or just enjoy a day in the warm sun, we're sure you'll find something to enjoy.
The North Fork River alternates between swift currents and quiet waters, perfect for anglers and those seeking a little excitement. The beautiful Ozark landscape frames the gorgeous emerald waterway, allowing floaters the chance to capture a glimpse of the local wildlife, from deer and otter, to eagles, ducks, and beavers.
Our Staff at Dawt Mill will do their best to provide a fun and memorable experience for you, providing transportation and convenience, taking you and your group up stream so you can float back down to your vehicle or lodging here at Dawt.
The starting point of our float is just a short 10-15 minute bus ride from Dawt, around 8 Miles upstream, at Blair Bridge. This trip features both a Blue Ribbon and Red Ribbon trout stretch for the avid angler, and can last anywhere from 4-6 hours depending on how many times you decide to stop along the way.
Watercraft Pricing
Canoes – $45.00
Kayaks – $35.00
Rafts – $120.00
Tubes/Cooler Tubes – $20.00
Private Boats – $20.00/per Vessel
(All pricing is after taxes and fees. Cooler Tube does not include a cooler. )
(Regarding Private Boats: Only guests staying on property will be issued wrist bands and allowed to pull out at our boat ramp, non-guests are required to pull out at the low water bridge just past the mill.)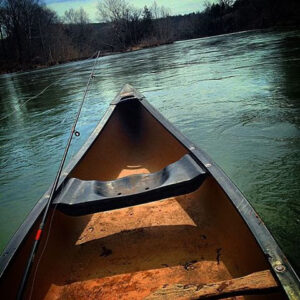 Please be in the General Store at least 30-45 minutesbefore your reserved trip time. This will allow you enough time to fill out our waiver and for you to load your items onto our bus. If you miss your departure time, you may be put onto the next available time IF there is space available.
Floaters must be in by 7 pm if they wish to avoid a $50.00 late fee
After 7:30 Water-patrol will be contacted to locate you and your group to ensure your safety.
Our first shuttle departs at 9am and every hour on the hour, with the last one leaving at Noon
Please understand that we do take walk-ins for our float trips, but our reservations take priority.
Life cushions are provided and life vests upon request.
You may also bring your furry friends along for the float as well, but there will be a $5.00 fee for each pet in our vessels. NO PETS IN RAFTS. NO EXCEPTIONS.
CANCELLATION POLICY: All reservations must be cancelled 10 days prior to your reservation date to receive a full refund of your deposit. All cancellations are subject to a 10% service charge. Any cancellations made less than ten days in advance will forfeit the full deposit..