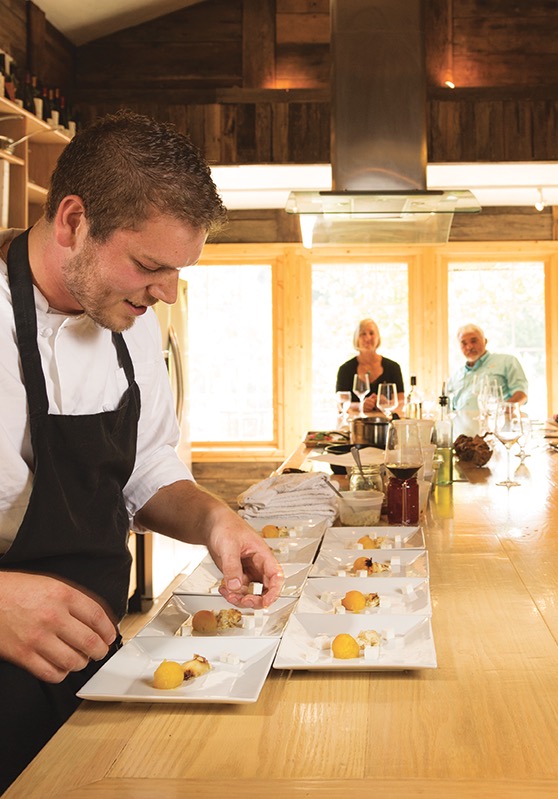 The Chef's Table with it's unique theme of tableside preparation and an incredible view of the North Fork River, make the Chef's Table a must do experience for all foodies. The Chef's Table is available by reservation year round.
The next Chef's Table Event is a Chocolate Lover's Chef's Table, just in time for Valentine's Day, February 10th,11th and 12th, at 6pm $125 dollars a person see Facebook link
https://www.facebook.com/events/1829112827332951/ Call 417 284-3540.
Courses are $10 dollars each with a 3 course minimum. Feeling adventurous?? Have 12 courses for $125 dollars and your meal becomes a culinary event!
Select a theme and let Chef Ryan create incredible dishes based on your preferences! Passed theme's have been, Chocolate, Bacon, Garlic, Taste of the 7 Seas, Wild Game, and Cheese. If you need to cancel we require a 24 hour notice or a 25% cancellation fee applies.
Not up to being creative? Some of Ryan's standard options can be seen below:
These are only suggestions.
The first and last choices or the amuse bouche and the mignardise are the Chef's Choice based on seasonal availability.
Appetizers are crayfish bisque with parmesan crisp and mixed green salad with truffle oil powder. Savory Oats, seasonal vegetables, and beef or poultry for entry options.
Dessert options include, chocolate torte with hazelnut and lavender or corn cake with burnt chocolate ice cream.
Custom menu creation based on client preference is also available, Chef Ryan Van Winkle will happily discuss any of your preferences with you and make recommendations.
After selecting from the Chef's course options, you will enjoy watching the Chef prepare your meal table side.
From November 1st through March 15th dine at the Chef's Table and stay the night in the Romantic Cabins for just $79.00, based on availability. Call 417 284-3540 for reservations and more information. Follow the Chef's Table on Facebook https://www.facebook.com/thechefstableRyanVanWinkle/
Contact thedawtmill@gmail.com
or call: 888-884-3298 or 417-284-2540
Click the thumbnail photos below of the Chef's Table
---
888-884-3298 or 417-284-3540

Dawt Mill P.O. Box 1090 Tecumseh, MO 65760
Website: www.dawtmill.com Email: thedawtmill@gmail.com