Patrick Bridge to Dawt Mill – Approx. 3-5 hours
A shorter float trip, approximately 3 – 5 hours, but with beautiful scenery. Be sure to stop at Althea spring before you get into the water at Patrick Bridge. For a real thrill jump into the spring that once powered a private electrical station. Another section of the river that is home to Brown and Rainbow trout. Absolutely no inflatable vessels will be put in at Patrick Bridge.
Cost per Canoe for up to two people: $47.95*
Cost per Kayak: $47.95*
Click on the links below for more information
RATES – RESERVATIONS – LODGING – CAMPING
*All trips are quoted with a specific number of occupants for a one day float. When the number of people exceeds the number quoted, An extra charge of $5.00 will be applied if a third person rides in the canoe. $5.00 per pet fee charged when pets are taken on our transportation system. Additional canoes may be rented at the regular rate. Dawt Mill reserves the right to limit the number of people occupying the canoe. If it is raining in Ozark County past 12:00 noon a Rain Check will be issued for a date of your choice based on availability. No refunds for early returns. If in management's opinion, river conditions are unsuitable for safe floating Rain Checks or Refunds will be issued. Auto Shuttles are no longer available.
Rafting trips are provided exclusively on Blair to Dawt Mill trip.
Contact: thedawtmill@gmail.com
or call: 888-884-3298 or 417-284-2540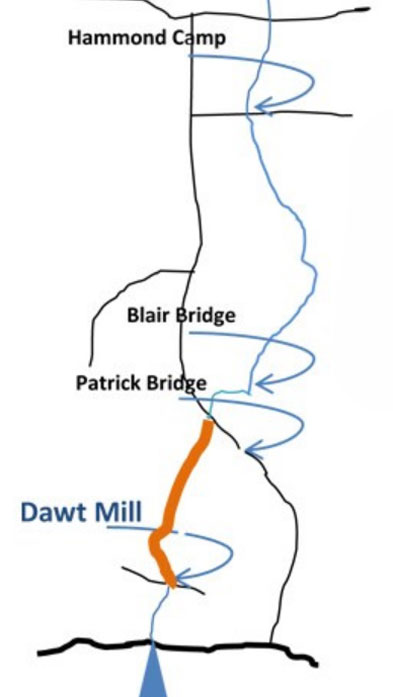 ---
888-884-3298 or 417-284-3540

Dawt Mill P.O. Box 1090 Tecumseh, MO 65760
Website: www.dawtmill.com Email: thedawtmill@gmail.com